Essential albums from 2019 so far – as recommended by 6 Music
Lauren Laverne, Steve Lamacq, Mary Anne Hobbs and Tom Ravenscroft are all curating an hour of the finest songs from 2019 to have featured in their Recommends shows (available in BBC Sounds after midnight each night)
And from Sunday 23 June, 2am, the 6 Music Recommends' New Music Playlist will round up our presenters' picks of their favourite tracks from the first six months of the year.
To celebrate 6 Music Recommends Week, below we present a selection of essential albums from the year so far, in no particular order. How many will make the cut for our end-of-year rundown? (See 2018's list here).
Vampire Weekend – Father Of The Bride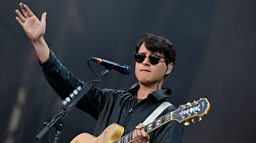 Six years between albums might seem like a long time, but not in Vampire Weekend frontman Ezra Koenig's books. As he told 6 Music's Steve Lamacq earlier this year, he spent two years touring previous record Modern Vampires in the City, two years going "back to being a normal person", and the final two recording Father of the Bride.
The end result is an 18-track "double album", split between fully-fledged, direct pop songs and more experimental, short-lived vignettes. With former member Rostam Batmanglij departing the group in 2016 (he still contributes to the record), in his place is a wide cast of collaborators including Danielle Haim and The Internet's Steve Lacy. Most guest contributors don't lend themselves to a single verse however, they appear on several tracks.
Koenig has said Vampire Weekend's previous three records represented their own separate trilogy. And if Father of the Bride is the beginning of a new chapter, it represents the band being more adventurous and comfortable in their own skin.
Fontaines D.C. – Dogrel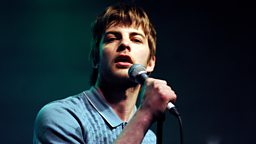 The heritage of Dublin's Fontaines D.C. is immediately easy to trace on debut album Dogrel. The lyric "Dublin in the rain is mine / A pregnant city with a catholic mind" commences opening track Big. From there, the band paint a vivid picture of a flawed hometown, poetically arcing their narrative around the characters and fabled stories of the Irish capital.
Commanding all of this is frontman Grian Chatten, whose vocals are as identifiably Irish as Dublin's tourist traps. On the racing Hurricane Laughter, he brings an unstoppable urgency to the record. But he can also lend his voice to something more tender, like on Roy's Tune's parting lyric: "Hey love, are you hanging on?"
"We were encouraging each other to be who we believed ourselves to be all the time," says Chatten about making the record. And this is why Dogrel stands out; for such a young band, Fontaines D.C. are remarkably clear about who they are.
Lizzo – Cuz I Love You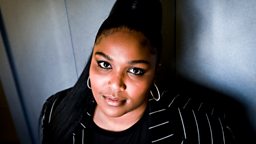 She may be three albums in, but Lizzo says it took a long time for her to feel confident as a solo star. "I believed in myself in rock bands, RnB groups and rap duos," she recently told Rolling Stone of her early career. "But I never believed in myself as a solo artist. I didn't think anyone wanted to look at me or hear what I had to say."
But Cuz I Love You, a bold and bright collection fusing funk and retro synth-pop and full of self-love anthems and motivational bangers, definitely sounds like an artist who knows what they want to say and knows that the world needs to hear it.
"When I have to make decisions, I always choose honesty and I always stay true to myself, because I know at the end of the day that is what's going to remain," Lizzo adds. "That is what's going to be the legend: That I was true to myself and that I honoured every person by staying truthful to them."